When will Spotify's much-anticipated HiFi streaming tier be available to users? At least one user has been given a survey hinting that the company is aware of the issue and is considering bundling HiFi with other premium features into a new, more expensive "Platinum" plan.
A former Spotify user posted screenshots of a survey invitation on Reddit. New plan tiers were presented, and respondents were asked if they would rejoin or switch to the service as a result. In addition to the standard free and individual plans, the survey suggests a premium Platinum plan for $19.99, which would include all the features of the paid tiers, plus HiFi and other tools like Studio Sound, Headphone Tuner, Audio Insights, Library Pro, and Playlist Pro. With the new plan, Spotify's original podcasts would have fewer commercial breaks.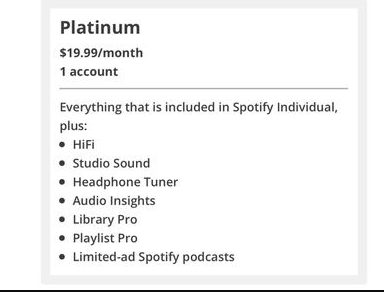 We sent a private message to the Reddit user who completed the survey, and they elaborated on what was expected of them. The survey data displayed a number of Platinum plan variations. Also included was the ability to listen to audiobooks, which Spotify started selling in September. That hypothetical strategy added even more to the total cost.
Initially scheduled to launch by the end of 2020, Spotify HiFi was instead announced in February 2021. That didn't happen, and ever since then, Spotify has refused to provide any concrete updates on the feature's development.
Between now and then, Apple has added lossless and high-resolution audio to Apple Music at no additional cost. It has been speculated that Spotify was taken aback by this development, as the company may haveted to implement a premium pricing tier for HiFi. The survey's suggestion of a separate, more expensive HiFi plan is consistent with this idea. Lossless streaming is now a standard feature for all Amazon Music subscribers.
Aside from that, I'm just guessing here, but "Studio Sound" might be Spotify's marketing for its Dolby Atmos/360 Reality audio support (and the other features mentioned in the survey). It also appears that the company plans to keep the most recent library and playlist features locked down for Platinum subscribers only. In what form would that take? Greater efficiency? Automatically generated playlists? Can you justify the higher price with the added benefits? Let's hope we get all the information we need soon.